Additional
BONUS #1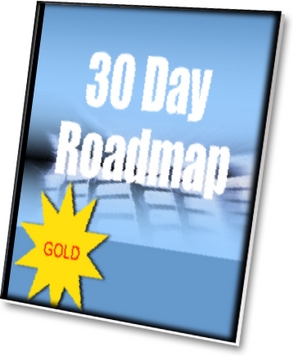 A Step-By-Step "30 Day Roadmap" Which Tells You Everything You Need To Do To Get Started NOW
I'm not sure if you're aware or not, but co-founder of World Internet Summit, Tom Hua is one of the pioneers of 'internet marketing.' He's such a quiet achiever that most people don't realise what a huge impact he's had on all of our futures.
Well Ted and I pushed him and pleaded with him for his "take" on what every beginner should know if they want to get it "right" from the very beginning. Gladly he accepted our prodding and created this completely invaluable 30 Day Roadmap. And just like Ted and I thought, it's the most easy and logical plan you have ever seen.
You should literally treat this 30 Day Roadmap like GOLD. Don't have someone else read it for you ... don't file it in a folder to read "some day" - devour it IMMEDIATELY and see the fast track to success on the internet. In fact, follow Tom's exclusive plan and you simply cannot fail. And that's quite a promise - but it's absolutely true.
Completely Invaluable
- YOURS FREE!
Additional BONUS #
2
E-BOOK - How To Create A Webpage Even If You're A Beginner And Don't Know A Mouse From A Modem
What if creating a webpage was actually easy? So that getting yourself online was possible for you even if you're a complete "newbie."
Good news is - IT IS!
We'll show you the simplest way to do this with a guide that you can refer to as you go - with easy instructions and plenty of photos - so learning is quick and easy.
$9
7 Value - YOURS FREE!
Please Right Click Here to download the PDF file

Additional BONUS #3

5,000 Quick & Easy Website Templates

Which means, forget about hiring an expensive website designer. Forget about trying to design your own webpage - WHY BOTHER? We'll give you 5,000 webpage templates that are yours to use FREE!

Do you know what it would cost you to have someone design these for you? Some designers charge up to $3,000 per site. Even more. So even if we value these pre-designed templates at just 25c each - that's still

$1,250 worth of value - FREE. And you'll never have to design your own web page again.
ALL THE WORK'S BEEN DONE FOR YOU!
Do you know how much time these will save you? Just add your text and you're off! 5,000 expertly designed templates with hundreds of different colours ... designs ... formats ... and themes - YOURS THE MOMENT YOU LEAVE THE EVENT!
$
1,250 Value - YOURS FREE!